Electric vehicles (EV), the future of automobiles are here to stay! Compared to traditional petrol cars, electric vehicles are better for the environment as they do not produce any emissions which negatively impact our climate and cause air pollution. If you haven't made the jump to EVs yet, leasing one in Singapore is a great way to help you get comfortable with the future generation of vehicles.
During the BMW iX Experience Day which took place on the 6th of January 2023, our customers got a glimpse of the future, one that is sustainable and modern. The event was electrified by unstoppable passion and ignited by the need for speed, thanks to the BMW iX, which can be leased through Hertz Singapore for as low as $5,228. The event started with a short welcoming speech by the Managing Director of Sime Darby Services where he thanked everyone for coming to experience the future of the automotive industry.
Some of the most memorable highlights of this event include:
1. BMW iX Redefining The Driving Experience With Its Performance and Specs
The BMW iX is born from a vision and was created for electric mobility as shared by the BMW Product Genius. Even at a standstill, this EV is able to achieve an exceptional range and deliver powerful acceleration thanks to the car's modern technology and its fully electric all-wheel drive.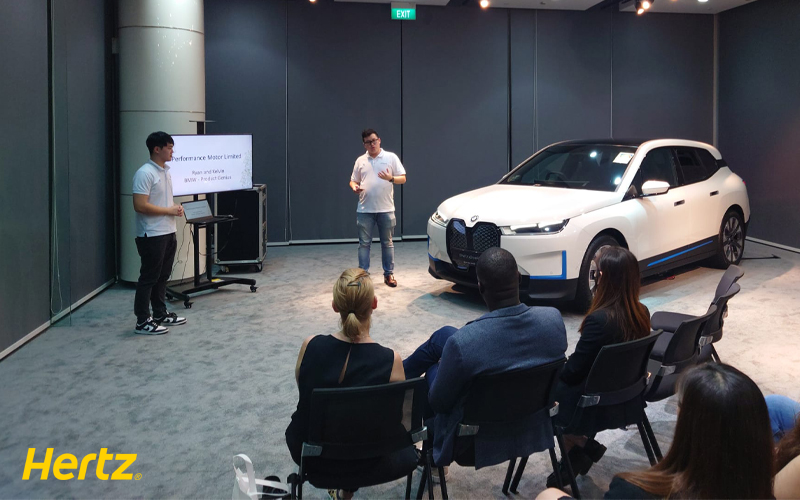 The BMW Product Genius also mentioned that the BMW iX provides a fully immersive experience, allowing users to communicate with their car with the aid of its intelligent digital assistant which reacts to voices and gestures. Taking it to a whole new level, this EV comes with a range of driver and assistance systems that offers optimal convenience and safety. As the ideal electric car for long-distance drives, this BMW has a range of up to 630 km and can recharge up to 95 km range in just 10 minutes. If that's not impressive, we don't know what is!
2. BMW iX Leasing Programme by Hertz
Worried about the commitment of owning an electric car, especially the luxurious BMW iX? Fret not as Hertz Singapore's fully maintained car leasing in Singapore allows you to enjoy driving around in an EV without worrying about any long-term financial commitment.
Should you wish to lease the BMW iX, you can either choose to lease it via the Hertz Lite or the E-Lite Packages. Our E-LitePackage, which is a long-term car leasing package, enables you to lease the BMW iX for 7 years with a payment fee of just $5,228 monthly. You can choose to change to a new car in the 5th year or buy the BMW once your lease ends at the 7th year mark.
For the Lite Package, you can choose to lease this EV for up to 5 years with a minimum lock-in period of 18, 24 and 36 months at a rate of $5,550* a month. This is the shortest tenure package in the market with the highest flexibility. At the end of the lock-in period, you will be given the option to purchase the car at the pre-agreed price that you signed when you leased the car.
If you would like to purchase the car, you can also lease it directly through BMW through their Try Before You Buy Program package for either 6 months at a rate of $7,500 a month or a year for $6,700 monthly. After leasing it for 6 months, you can purchase the BMW iX for $345,000.
3. Test-Driving The BMW iX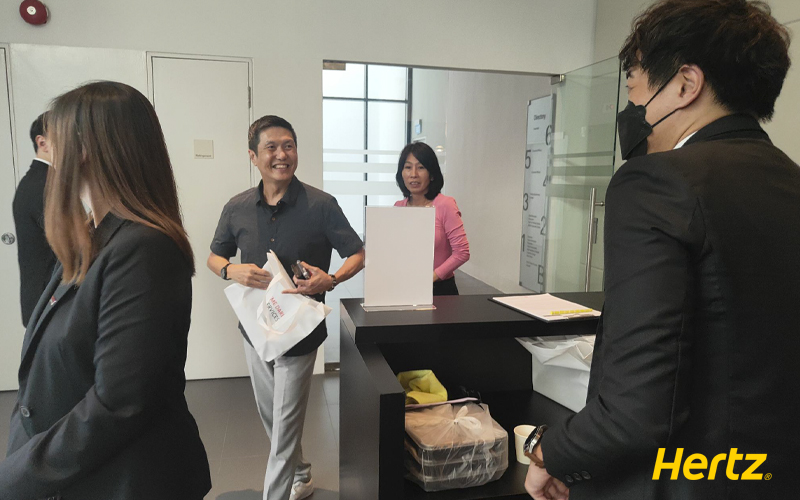 Before the event ended, our special customers got to enjoy the exhilarating power of the BMW iX when they took it out for a test drive. World-class technology was displayed right before their eyes as the car delivered a smooth driving experience. With its modern, sophisticated design coupled and holistic sustainable features, our customers were thrilled to know that they too can own this car for a period of time without being fully committed.
If you would like to know more about the BMW iX and how you can get your hands on this beautiful EV, do check out Hertz. You can also choose our other car leasing services on our platform through our E-lite or Lite programme! Contact us today to know more.