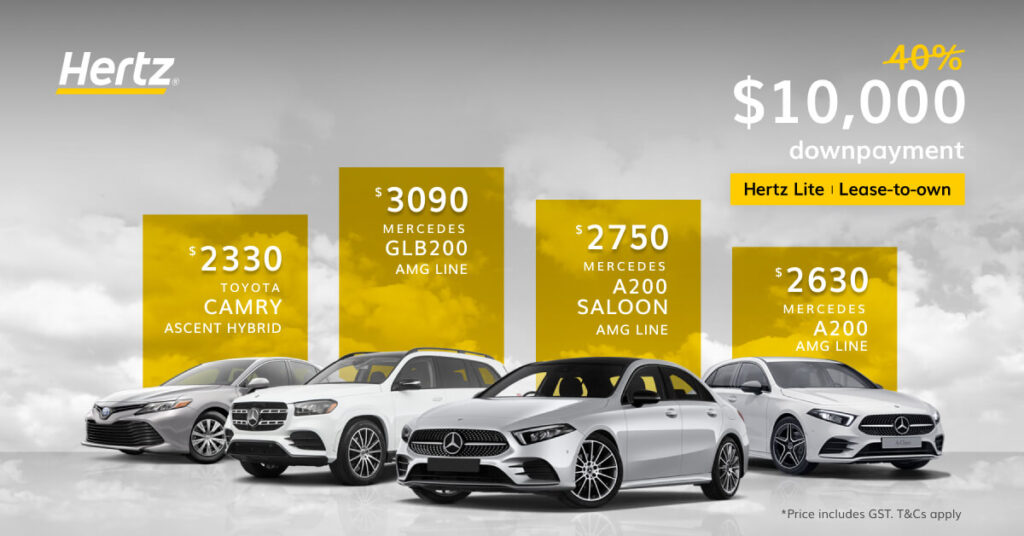 Owning a luxury vehicle is made easy with Hertz Lite Lease-to-own.
Enjoy the convenience of driving a brand new car without worrying about road tax, insurance, servicing and maintenance. Change to a new car after 3 years or purchase the car any time at the predetermined amount.
Speak to our leasing expert to find out the benefits of Hertz Lite over hire purchase.
Limited stocks available, based on existing stocks. Register by 6 Jan 2021 to enjoy the offer. T&Cs apply. The company reserves the right to change, modify, add or remove any of the Terms and Conditions at any time without prior notice.
Benefits of Hertz Lite
Hertz Lite offers the shortest lease tenure in the market for a brand new car. It is a up-and-coming leasing scheme which combines comprehensive lease and lease-to-own.

Assurance
No vehicle depreciation and you have the option to own the car at predetermined value

Minimal Commitment
Just $10,000 down payment upfront and no security deposit required

Flexible and Hassle-free
Choose your lock in lease period of 18, 24, 36 months

Peace of Mind
Inclusive of servicing*, road tax, insurance and 24h breakdown assistance

Freedom of Choice
Purchase your vehicle at any time. Extend the lease or change to a new car after the lock in lease period
*Terms and conditions applies
How Hertz Lite Works

Select your preferred car model and get a quote on the price.
Decide your lock in lease period of 18/24/36 months for the 5 years contract.
Pay the $10,000 down payment together with the first month lease and get the car delivered to you once it is ready.
Upon completion of the lock in lease period, choose:

Restart: Change to a brand-new car of your choice
Retain: Purchase your vehicle any time during the lease at predetermined value
Renew: Extend your lease term and terminate any time without penalty
Hertz Leasing Scheme Comparison